Children, it has been a while since I last reviewed an album, and I have some things to announce. First, I will be doing this more often, because it's alot of fun. Second, they will be much shorter, rather than most professional reviews. Why? Because my making them long, I have to spend a long time throughly listening to each track, when I just want to enjoy it. So yea, they'll be shorter, but I promise they'll be good.
So today, I am reviewing the second studio of Canadian super-duo MSTRKRFT, Fist of God.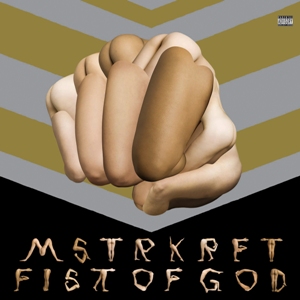 For those of you who are unfamiliar with MSTRKRFT, they are a power-electro / dance-punk group. Their 2006 premier album, The Looks has had some tracks posted on the blog before, due to its amazingness. In my opinion, The Looks is one of the best, if not THE BEST, premier album I've ever heard. And while reviews claimed it lacked any sort of content, I found it to be extremely groovy and powerful.
Fist of God surprised me, however. While The Looks was fairly heavy on dance-punk, FoG tends to be more in your face, sounding a lot like something out of Boys Noize. I never said this was a bad thing, it's just...different. From my view, FoG seems to be more blastable than previous MSTRKRFT work.
What am I talking about? Listened to next to each other, TL almost sounds like Starbucks Indie music compared to the pure power FoG has to deliver. To be honest, it's as if MSTRKRFT had an epiphony to make an entire album based off their semi-hit, Paris. While TL had some lighter tracks, such as Easy Love and She's Good For Business, FoG had no lighter songs to deliver, only pure exploding-in-your-face synth riffs and loud bass beats.
While this may be disappointing to some, the ecstasy-type-music-lovers such as yours truly were thrilled. To me, it's fantastic that MSTRKRFT decided to make this move, and it shows that they're capable of more.
All in all, Fist of God was more than I expected as a follow up to the amazing "The Looks." While it does have a slight disadvantage replay-wise, FoG gets my hyped up whenever I'm in need of it.
PROS
- Different sound
- Good for the true electro fans
- Excellent collaborations with various hip hop artists
- Great production and flow between songs
CONS
- Lacks as much replay value as The Looks
- Some collaborations sound like the guest is beign drowned out
Prez Jordan's Picks from "Fist of God"
MSTRKRFT - Fist Of God
[right click to download]
MSTRKRFT - Word Up (feat. Ghostface Killah)
[right click to download]
OVERALL RATING
4.5 / 5 (Excellent)
Enjoy,
Prez Jordan