Today I have a rather funny track for you children. If you haven't heard this song, you either don't live in the US, or you don't watch television. Now put away your torches, because this song isn't a mega-smash, it's just a tune you've all heard.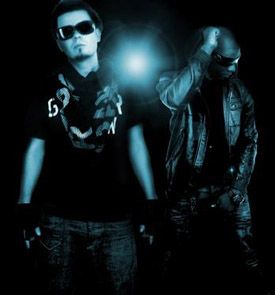 The name of this up and coming duo is Mysto & Pizzi. At only 22 and 23, respectively, they are quickly becoming famous Hip Hop producers. Straight out of Queens, this duo made a few underground remixes (which I'll save for another post). Last year, Mysto & Pizzi received their first Platinum Plaque with their production of R. Kelly's "Get Dirty" (feat. Chamillionaire). They also gained some good myspace popularity with their Kanye West "Love Lockdown" electrohouse remix.
Now today's track is a remake of Rockwell's 80s smash "Somebody's Watching Me." Unlike the 80s smash, this is not pop, but rather an electro-y house-y feeling remix with some nice Vocoder-age. Enjoy, you'll laugh once you recognize it, if you haven't already.
Mysto & Pizzi - Somebody's Watching Me
[right click to download]
Don't forget to check out Mysto & Pizzi's other work on their
MySpace
,
Prez Jordan