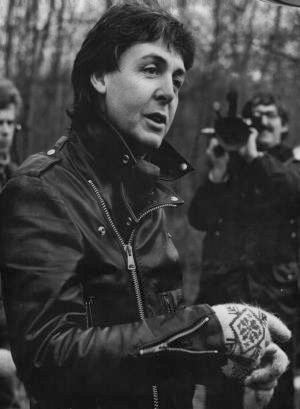 My dad is a total Beatles nut. He grew up listening to them, and has continued to ever since childhood. Consequently, I listen to them a lot. My dad, in addition to his obsessive nature, also likes to hoard stuff, including a large collection of Beatles vinyls, and I mean large. I suspect that this is hard-coded into my genetics *looks at growing collection of Daft Punk vinyls*.
Anyway, the point here wasn't to talk about the Beatles, vinyls, or obsessions, rather, the point was to address a very specific Beatle... Paul McCartney. After the Beatles split apart, the four all went their separate ways and recorded solo. Not all of em made it big. Sorry Ringo. If it's any consolation, Mr. Starr, I love your work on the Thomas The Tank Engine series.
The Beatles had already experimented with electronic production when they made Revolution 9, the ever-trippy soundscape of weird vocal samples and reversed violins. So when Paul McCartney released his third solo album, McCartney II, it wasn't terribly surprising to find him experimenting with synthesizers and drum machines. Truly a bedroom DJ, the entire McCartney II album was recorded in his basement.
The album only had one hit, Coming Up, which became a staple of his concerts for years to come. Though it was a terrible performance, he even played Coming Up at the Grammys this year. I was a little disappointed with the mediocre performance, but then, a GOOD Grammy performance is rare at best. Anyway, back to the album. Once the funky guitars of Coming Up are gone and over, your ears are greeted by... synths? Yes, sytnhs, and nothing but synths and stange vocal production for the rest of the album. Overall, any electronic music historian should love this album. I highly recommend grabbing a copy if you can find one.
Selections:
Here's one you'd expect from one of today's freakish indie electro rock bands.
Paul McCartney - Temporary Secretary
[right click to download]
Soft, pleasant. Ahhhhh...
Paul McCartney - Waterfalls
[right click to download]
What is this? Chillectro?
Paul McCartney - Front Parlour
[right click to download]
Gotta love that Nanotron flute.
Paul McCartney - Summer's Day Song
[right click to download]
Too early to be 80's pop, but it has the vibe.
Paul McCartney - Frozen Jap
[right click to download]
Crazy vocals, maaan.
Paul McCartney - Check My Machine
[right click to download]
Really long, and I'm distinctly reminded of The Chemical Brothers. Less distortion, smaller beats, but still the weird psychedelic feel and lyrics that may or may not be associated with drugs.
Paul McCartney - Secret Friend
[right click to download]
I hope you enjoyed another blast from the past.