Please note that I'm going to rate this album realistically. It's not a perfect album, and therefore, I will NOT be giving each and every individual track an outrageous rating. I don't work like that.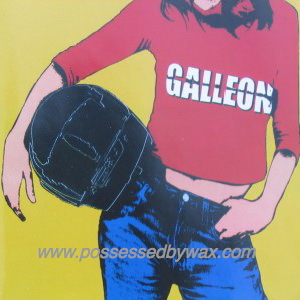 So to start off the review, I should just tell you a bit about the album. Having only heard the three Galleon tracks I posted a while back, I was expecting an epic dance album when I unzipped the copy of Galleon's LP I had been sent. I was quite taken aback and pleasantly surprised to find that yes, it's house... but like,
alternative
house. The only songs on the album that were dance-y were the three I have already posted. The rest are amazing blends of sample and vocal, but they're more like... listening music. Either way, they are just as epic as I expected, each track packing some sort of punch.
The album starts off in the most epic of ways, with So I Begin. As I mentioned earlier, the tracks chop style really gets me going. A great sample (I'm pretty sure it's Toto - Hold The Line) with some pretty good vocal work. One thing off about the whole track... and that's the lyrics. They seem really halfassed in several ways. The chorus is fine, but the rest of it just sounds out of place, and like they wrote them in five minutes before going to the studio. In addition on the "Iiiiiiiiii begin" he goes a lil flat, which my overly critical ear cringes at.
7.2/10
The next track is Shining Light which has the usual epic chopsample intro. If there was going to another hit from this album, this would probably have been it. It has a very upbeat dance-y feel. The only problem is that while the vocals are going, it kinda loses that feel. However, unlike the last track, these lyrics sound a little more thought out. I'm not sure they make sense entirely, but it just sounds better written. Nice track. Very close to house hit in my opinion, but still not a better track than so I Begin.
6.8/10
Galleon - Shining Light
[right click to download]
One Sign. This track is a little flabbergasting. It's like So I Begin 2.0. The vocals are a little better (still not quite making sense, but in that good Empire Of The Sun way) and the song has an amazing guitar solo between all the verses. I'm pretty sure it's a sample, because I feel like I've heard it before, in the actual track it came from. The song's extremely catchy, and it changes enough to make it one of those songs you can listen to a few times without getting tired of the repetition. I guess I can't really say anything bad about this track, in all honesty. It's quite possibly the best track on the album.
8.9/10
The next track, The Best World is a bit of a surprise. Slower tempo, and jumps right down your throat with a phasered, crunchy 80's synth. The overall feel is A-Ha meets Toto meets the year 2001. I'm not sure this track has any samples. Sounds like all original instrumentation. All this together makes it more of an underground pop style track than a dance hit. It's too crunchy to be slow dance, like many of Toto's tracks, so the best I can figure, this is just a really neat expiriment in electronic music as a normal artform, instead of being exclusively dance-oriented. It's sad that this one went unnoticed.
7.3/10
Galleon - The Best World
[right click to download]
Next on the album is I Believe, one of the three album hits that got singles. It's a tad overrated, though, I think. The backing is a clone of So I begin, but not quite so powerful and the vocals are good, but too strong for a rather weak backing. When you're talking about belief, you're handling a very powerful subject: faith. Songs of belief and faith need a lot more epic in eaither the way the punch you, or the chords. This fell short of both. Am I being petty? Maybe. Still, it IS a good track. just not the best.
6.5/10
Da Rock is completely instrumental, and seems to be a house/electro tribute to classic rock, starting out with an old surf-rock/western movie WA WAH WAAH guitar. Add electro bassline... and... hammond organ? Heck yeah! The organ sounds a tad out of place, though. It adds a lot to the track though. At 5:11, this is one of the longest tracks on the album. In my opinion, they should've stopped while they were ahead. About halfway through the track, they solo the organ and go crazy filtering it, and it just makes my ears bleed. It contributes nothing to the song at all. Just repeat these various elements a few times, and you've got a rather cool rock n roll house song. I think it could've been much better though.
6.9/10
Galleon - Da Rock
[right click to download]
Rhythm Melody. Dude. I swear to God I know this sample, but I can't think of what it is... anyway. It's ambient. A new direction for the album, and yet again, they're going more electro, with a deep crunchy bass. This one is also instrumental, and very pleasant to listen to, but I don't think it's all that special. I feel like it's an album filler. It sounds more like the background music to a science special on PBS (well, if you get rid of the drums) than a commercial track. It's good, but I can't help but feel a little disappointed.
6.7/10
Galleon - Rhythm Melody
[right click to download]
Each Day. YES. Now we're talking. This is the sound you're led to look for, but with a sort of U2 twist. Yeah, give Bono a house DJ to produce their album, and I bet you get something that sounds a bit like this. Definitely one of my favorites of the album.
8.3/10
Galleon - Each Day
[right click to download]
Next up we have Money Work, which sounds like an escaped Hystereo track. The title, the sound (all except for the vocals)the theme, all sound like something from the Hystereo album Corporate Crimewave (another rather obscurish album I'll post later). This song was a great. The message is clear, but the vocals were poorly written. The message is clear, but the words could have been written a so much better way. I don't particularly care for this track, except the chorus, which is very well put together and awesome. The rest of the track sounds like they pressed the song before it was finished.
6/10
Galleon - Money Work
[right click to download]
The Way. This one caught my attention because of the similarity in title to one of the songs I myself wrote... probably about a year and a half ago, now. Wow. Anyway, back to Galleon. This song goes back to the 80's with that pop rock sound. It' an indescribably epic sound, and I really wish I could get a sound like that in my own productions. The vocals on this one are perhaps some of the best lyrics on the whole album, and I can't help but feel that they have some slightly spiritual undertone. Definitely one of the best on the album.
7.3/10
Galleon - The Way
[right click to download]
My Name sounds like it's trying to emulate late 80's/early 90's underground dance pop. Not exactly a sound I care for. This another one of those filler-sounding tracks. I'm not gonna bother talking about this one much, cuz I'm just not interested. Meh.
5/10
Galleon - My Name
[right click to download]
I can relate to Angel Wings. It's been the notice of many of my peers that I have never been on a date or had a girlfriend or any of that stuff. I guess the reason is I'm "looking for that girl with angel wings" who doesn't have to "work to smile like that". "Just a woman so natural". This is pure 80's pop emulation again. I hear A-Ha channeled in this song with the early 2000's disco influence still strong. Definitely one of my favorites.
8.1/10
Galleon - Angel Wings
[right click to download]
We're greeted with the sounds of wind, and strange echoing vocal and a sword clash sound. Ghost Ship is definitely an uber wtf track, but it has a beautiful piano sample and some weird vocals. The whole track is only a little over 2 minutes long, sadly. It seems as if it's supposed to be an 80's movie theme, and I think you'll agree when you've heard it.. I think this is one of the better songs on the album, and would've done with being a tad longer. But maybe it's shortness is what makes it so charming. Get in, get out, quit mucking about, yo ho yo ho yo ho.
8/10
Galleon - Ghost Ship
[right click to download]
The last track, the Galleon mix of a song called Freedom To Move mystifies me. I don't know what to think of it. I suppose I'd have to hear the original to be able to accurately judge it.
I'm leaving this one blank.
Freedom To Move (Galleon Mix)
[right click to download]
overall, I'm giving this album a 7.5/10. It has a solid style, solid artists, solid tracks, but isn't quite good enough for a whole 8.0, let alone 9 or 10. Doesn't change the fact that this is probably my second favorite house album after Discovery, however. Thanks Galleon for some great tunes. it was a shame you guys weren't around a tad longer.