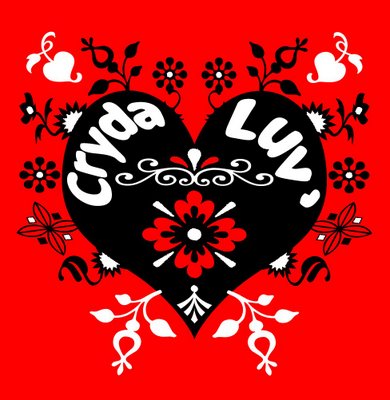 Cryda Luv'
(aka DJ Puipui) has been one of the producers at the forefront of the French House 2.0 movement and deserves every bit of fame he gets. His tracks are reminiscent of Crydamoure (hmmmm... no surprise there) and injects a unique flavor of bitcrushed funk into every track he has, no matter the sample:
Cryda Luv - Beauty Joy And Dream
[right click to download]
This one's
source
has been
sampled
a few times
before
, but Cryda Luv's interpretation is no less funky than
any other
. The beginning is a bit brash, but once the sample kicks in there's no stopping it. This track is a behemoth of sidechaining and filters and cannot be refuted. The bitcrushing on the high synths grates the eardrums just a bit, but doesn't reduce the awesomeness of the track any more.
Cryda Luv - Enjoy
[right click to download]
This next track is one of my favorites, not just from Cryda Luv' but of the past six months or so in general. Using a sample from one of the greatest disco bands ever,
Azoto
(note to self: do an Azoto post in the future), "Enjoy" is a symphonic gateway into disco house heaven. The rhythmic synths and guitar
send you out
to a place you previously did not know existed. The vocals (insert lyrics here) enhance this euphoria even more. I can't even name a favorite part of this song; I can just listen to it on repeat forever. However...
Cryda Luv - Enjoy (Allen Walker Remix)
[right click to download]
...
Allen Walker
's interpretation picks an 8-bar loop and sticks with it. I discovered his remix before the original, and although the original is by far my favorite, this track is still up there. The bitcrushing on this one is even more evident; I swear the synths are screaming to me, "WE'RE GROOVING!". And the bass just knocks you out. It doesn't get much groovier than this, folks.
Cryda Luv - My Venus
[right click to download]
And then.... "My Venus". There are no words, ladies and gentlemen. Before you listen to this, reach for the tissue box--I guarantee tears of joy will flow.
Let's groove,
-Wulf