Since the age of 12 I have been enamored with all things Japanese. (Read: I was a weeaboo.) Though most of that attraction has faded and been transferred to other countries (France, maybe?), one particular subset of modern Japanese music will never fade from neither my memory nor my mp3 player. That, of course, is not J-pop, Shibuya-kei or whatever it is that they play at sumo wrestling championships, but the very genre that is m-flo.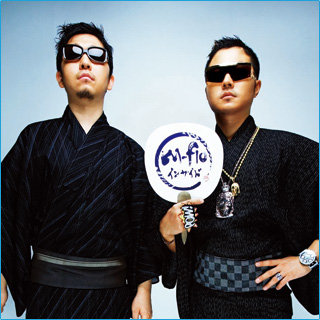 m-flo has been in existence since around 1997, and yet they are virtually unknown outside of Japan. Comprised by MC Verbal and producer Taku, this dynamic duo of sorts has continually churned out the most innovative electronic and sampled music of all genres (house, hip hop, jungle, acid jazz, you name it). They have released five full-length albums and an accompanying remix album for each, getting more creative and more crazy by each one. I'm going to try and narrow this down to what I feel are the best tracks across the board, but I'll probably end up doing another post on this one, so enjoy nonetheless.
m-flo - Astrosexy [click to download]

Yes, this motherfucking song is called Astrosexy. So what? Originally conceived as a title theme song for the Japanese version of Astro Boy (no, really), this track is a cavalcade of vocoded goodness and synths to dance all night to. Chemistry's crazy space vocals really seal this track, and the auto-tuned intro, though cheesy, is pretty rad. I don't know why I like this track so much, but I just always keep coming back for more.
m-flo - ADDP [click to download]

I would say this is about as housey as m-flo goes, but
it really isn't
. This wonderful blend of piano grooves, Monday Michiru's delightful vocals and filters galore has solidified this track as one of my all-time favorites. This is practically the track that got me into house music, before I even knew what it was. Aside from all of that though, the track just sounds good. In a sour mood? Listen to this and you'll be happy again. I guarantee it.
m-flo - been so long [click to download]

And, to wrap this up, the hip-hop side of m-flo. This is from their first album, Planet Shining, and it shows off their creative sampling in the most subtle of ways. This track features Lisa, who departed from the group after their second album. Most of their tracks feature at least one other artist (as evidenced by the two tracks above). Lisa has since made some, errr,
interesting tracks
.....
Check for part 2 soon.
(And yes, I'm aware that now Galactik Knights and m-flo are bosom buddies. And yes, I'm insanely jealous. ;_;)
-Wulf