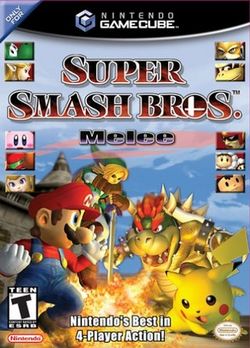 Okay, who didn't effing love this game when they were growing up? I sure as hell did. Which is why today I'm happy to present an artist who shares its lovely moniker. (Or at least part of it.)
Melee Beats, aka Nic Bertino, is a 25-year old producer out of Sacramento, California. His music infuses the disco house sounds we know and love with creative vocals and electropop beats and synths. He has released three albums since 2005, all full of delicious disco goodness.
Melee Beats - Distraction [click to download]

Our first track, Distraction, is a bit of a mixed bag. The vocals are a bit dull, but the talkbox and filter synths more than make up for it. It's a dark and funky excursion into house and it's begging to be remixed, chopped and dropped in your favorite club. (Side note: Anyone who remixes this will be my hero.)
Melee Beats - Someone Like You [click to download]

Someone Like You is a bit more downtempo and gives me kind of an
Evil Stereo
/
Nicholas
vibe. The sample combined with bass and a beautiful keyboard and guitar arrangement makes for a groovy lounge trip. It's music to be played during an important scene in a dramatic B-movie. Or music for the subway, or for the street. Point being, it's music, and good music at that.
Sorry for the sucky quality. Ripped from Soundcloud, hehe. ;D
Melee Beats - Girlhype (Arnold Ziffel's Hyped Mix) [click to download]

Finally, we have ourselves an exclusive remix of the track Girlhype by GXC artist
Arnold Ziffel
. The original Girlhype pales in comparison to this disco house-infused piece of work. Filters and phasers galore make this a track to remember. The last we heard from Arnold Ziffel was his creative yet subpar EP "Russian Love Machine"--looks like he is sharpening his skills, however. If anyone has other tracks of his, please send them in.
Got me goin' crazy,
-Wulf