Whenever
The Phantom's Revenge
sends me anything, it's almost guaranteed I'll post it. I can't get enough of this guy.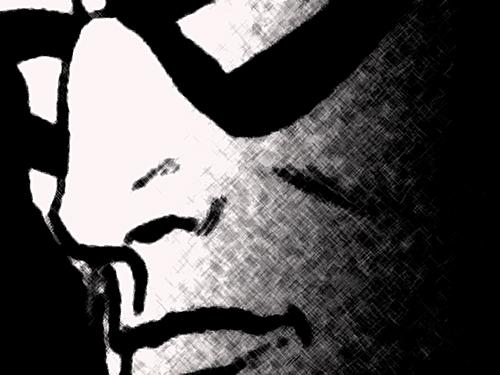 So, as you can imagine, I got pretty excited when I found a message from him this afternoon. Two new mixes. Awesome. I took a listen. Awesomer.
The first mix starts off fairly slow, but develops into a bunch of tracks I've never heard before. Honestly, I only have about 25% of these tracks in my collection, and I'm a blogger.
ZE TRACK LISZT
Masters At Work - The Ha Dance (Ken-Lou Mixx)
Lindstrom & Christabelle - Baby Can't Stop
Mickey Moonlight - Pelu Tolo
Toby Tobias - In Your Eyes (Tensnake Remix)
Broke One - Lightheart
Breakbot - Baby I'm Yours (Aeroplane Remix)
Break Machine - Break Dance Party
Kansk - Aussi Bon Appétit
Digikid84 - Are you Ready
Digikid84 - P.A.M.E.L.A.
Strip Steve - Breakin' (Lorenz Rhode Remix)
Treasure Fingers - Cross The Dancefloor (Shake-A-Pella Mix)
The Main Ingredient - Party People
Axel Le Baron - Primary School
Swivel Hips - Crack Is Whack
Evil Nine - Ultimo
Louis La Roche & Ad-Apt - Missing You
Golden Bug - King Of Kong
Grant Phabao - Cannonbutt
Moullinex - Superman (Lorenz Rhode Remix)
Boys Noize - Gax
Caribou - Sun
Al Kent - Come Back Home
Munk - La Musica
Tiga - What You Need (Chromeo Remix)
Tiga - What You Need (A-Trak Remix)
Kojak - Stupid Jack (Troublemen Remix)
TiTAN - Rodeo (Sammy Bananas Remix)
Hazel & Entyce - In Da Club (Fukkk Offf Remix)
JK Soul - The Music
The Cool Kids - 88
Tellier & Oizo & Sebastian - Letrablaise
See for yourself, it's precious. Unfortunately, commenting on mixes is a little...tedious. But I can just tell you that's full of energy and fun - you'll see why. Only TPR can match Axel Le Baron's "Primary School" with another song, graining included.
The Phantom's Revenge - No Dynamite... [click to download]

The other mix sounds a lot more like TPR, in my opinion. While "No Dynamite..." had a flair, this mix maintains the "filter feel" that made me fall in love with The Phantom's Revenge in the first place. Since the two mixes have such different foundations, I expect some mixed opinions in the comments section. Be sure to stop by and let us know what you think.
Other than that, enjoy.
TRACK L-L-L-LIST
Pierce - Blondes
Paul Johnson - Ain't A Shame
Paul Johnson - You Got To Get Over
Paul Johnson - I Ain't Got No Soul
Riva Starr & Rettore - Splendido
Uffie & Pharrel - Add Suv (Armand Van Helden Vocal Remix)
Voodoo Chilli - Love Song
Donk Boys - Geekbox
Jungle Brothers - I'll House You (Houseapella)
Horatio - Sing With The Swing (M. In & Bastian Schuster Remix)
Dizze Rascal - Dirtee Cash (Tom Piper & Nom De Strip Remix)
Tekilatex - Answers (Mikix The Cat Remix)
Beataucue - Bus
Poney Poney Run Run - Walking On A Line (Beataucue Remix)
Paul Chambers - Yeah Techno (Soulwax Mix)
Black Noise - Knock You Out (Andy George Remix)
Moonchild - Girl
Swivel Hips - We Can't Hide
Swivel Hips - Cheaters
Freddie James - Get Up And Boogie
Tesla Boy - Electric Lady
Coming Soon Minimix
Neon Indian - (AM)
Bobby Caldwell - Open Your Eyes
De La Soul - The Grind Date
The Phantoms Revenge - No More Blowing Up [click to download]

Splurging all my money on new music,
Prez