I try not to get too personal in my blogging - I'm sure you'd all
love
to hear about my day-to-days. So, let me tell you about my recent history, indirectly.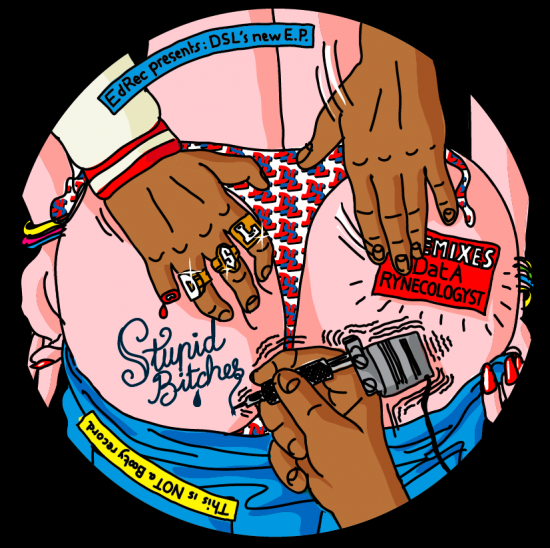 So-Me draws a nice ass, eh?
I'm a fan of this EP. A big fan. It truly shows the off-color personalities of today's komputerartizt's, and boy oh boy, is it off-color. In fact, I should probably mark these tracks for poor language, but if you work in a monastery you probably wouldn't end up here anyway.
Let's start with the Original Mix. It's in your face, loud, and generally all over the place, in a yummy sort of way. Strangely, this happens to be my
least
favorite track on the EP. But even so, it's still pretty good and has carved out a nice little spot for itself in my collection. Hey, it adds to the immense variety this album brings to the table.
DSL - Stupid Bitches (Original Version) [click to download]

The DatA remix sounds like a combination of Justice's
Valentine
and, well, rapping. A weird observation, I know, but that's just what I thought while first listening to this track. It has a nice balance, pleasant backbeat which, combined with the sort of "yelling" in the lyrics, sounds almost magical. This one was a homerun.
DSL - Stupid Bitches (DatA Remix) [click to download]

How many times can you say "bitches" in a song? If you're Rynecologist, a lot - like a lot a lot. This track happens to be my personal favorite from the bunch. I really like the synth line (which sounded like the best of the Crookers), and the vocal cuts weren't overdone. Honestly, this would've done just fine labelled as the original.
DSL - Stupid Bitches (Rynecologist Remix) [click to download]

Hehe I like this title. J'mens Bats Les Couilles is a heavenly 4-minute flow of pure french. If foreigners bother you in any way, shape, or form, skip this one. Likewise, if the sounds of the French language ring pure joy in your ears, you'll like this one. It has a sick beat, lyrics (I think), and a generally nice form to it. It's up there with
Find Me in the World
for sure. Nicely done.
DSL - J'mens Bats Les Couilles [click to download]

This is NOT a booty album,
Prez