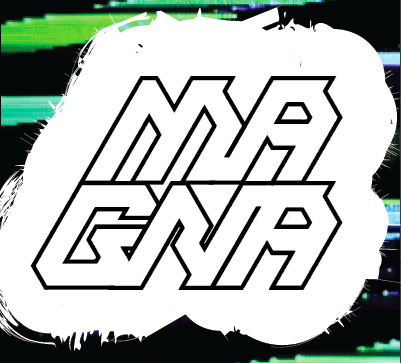 Unless you've been living under a rock for the past few months, you should know that Magna's long awaited third EP (appropriately titled THREE) is released today! Now, I must admit… I am a massive Magna fan, so I couldn't help but jump on the idea of doing an album review (or rather, EP review) for Three. I now realise that it is really hard to critique something that you really love, so it was quite hard for me to tear the EP to pieces and scrutinise it. It also should be noted that I am a VERY harsh critique and you will not be seeing me giving 9's and 10's for every track just for the sake of it.
As a rough guide; 1-2 means that I can't stand the track and would go out of my way to despise it; 3 means I strongly dislike the track and wouldn't touch it with a 10 foot pole; 4 means I dislike the track or it needs much improvement; 5 means that I nether like nor dislike the track and cannot form an opinion or its negative aspects weight out its positives; 6 means that I like the track but wouldn't purchase it; 7 means that I like the track and would purchase it; 8 means that I love the track and has won me over completely; 9 means that it is one of my favourite tracks of all time and there is nothing wrong with it; 10 means that it's a perfect track which could not be improved in any way, shape or form and should become an instant classic.
Righteo, shalt we begin?
Are You Ready is an interesting track. The one style I personally associate with Magna (and IMO defines his tracks) is the electro progression that slowly consumes the song. I was very very pleased to hear the first track on the EP utilising this characteristic style. Unless you're looking for it, you may not have noticed this consuming progression that first rears its head at the 1:50 mark. I find that this really changes the song, take a listen for yourself. First listen to the start of the track and then skip to the end of the song. Though you may have noticed a change, you may not have realised it was to this extreme.
8/10
Diamond (both part one and two) are very choppy tracks, but still manage to maintain a beat. Part one combines a nice contrast between the electro and classical elements. It also has a nice dubstep surprise at the 2:10 mark, which is a refreshing break from the repetitious nature of the track. Part two however avoids much of the classical elements of the song which was used to sample it (Diamonds Are Forevvveerrrrrrrr) focusing more of the choppy electro riffs and giving the track a slightly harder element. Unlike 'Are You Ready?' neither of the Diamond parts have any progression, which is quite disappointing considering that it is such a repetitious track. I personally think that Part Two needed something else to make it a bit more dissimilar from Part One, though the small changes were still pulled off nicely.
Part 1
7/10
Part 2
8/10
Probably my favourite track from the EP, 'When Its Over' has very choppy vocals in contrast to the smooth and laidback music. Thankfully this track employs Magna's electro progression techniques, though I still think that they would have been better used in the Diamond tracks. This progression first enters at the 2:30 mark and by the end it has devoured the track completely, morphing the track into something completely different. I have nothing to criticise about this track, I personally see this track and Two's 'Floating'; A nice refresh which is nothing short of amazing.
9/10
The LBCK remix is quite distinctively them, in the way that it incorporates many of their personalised styles. It is also quite funky and toe tapping, though it is by far not my favourite production from these guys. My main criticism with this track is that I cannot find any connection between it and the original. I personally love remixes which maintain some of the aspects of the original, though I cannot find these aspects with this track.
7/10
Overall EP:
I loved this EP and I ask you to keep in mind that I am a very harsh critique. I would strongly recommend you adding this to your collection. Now, I must say that I personally didn't like the album artwork for THREE as much as I did for ONE and TWO. I liked the theme that was maintained through Magna's Myspace which matched the album artwork, but the artwork on its own just wasn't as bright and impressive. With that aside, I give the overall EP a 8/10.
The tracks may be downloaded at
Magna's Bandcamp
with a name your price option. Though you do not have to, I would strongly encourage you to pay whatever you feel this EP deserves (which IMO is quite a bit!!). Keep individuality alive; support up and coming artists!
Colour