Hi everyone, here comes our featured artist of november : Destronics !
So, who are Destronics, what do they do, how do they sound? That's what we asked them.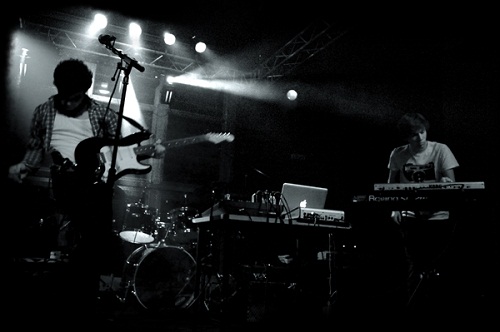 Destronics - My Life Is A Jukebox [click to download]

For those who don't know you yet, tell us a little about yourself.
David
: We are a french pop rock/electro duet , and we make a lot of jokes.
Quentin
: David is right. We are two young guys (18 and 20 years old) that spend their time making music, and in a good atmosphere!
How did you meet? and how did you decide to form Destronics?
David
: We used to bathe together since we're 3 - we've always been family friends ... However Quentin created Destronics by himself 3 years ago, and I joined him after that, replacing his best friend. At first it was very Justice-sounding, but our music quicly became more instrumental, more air pop! The synth/guitar mix was very important in that evolution.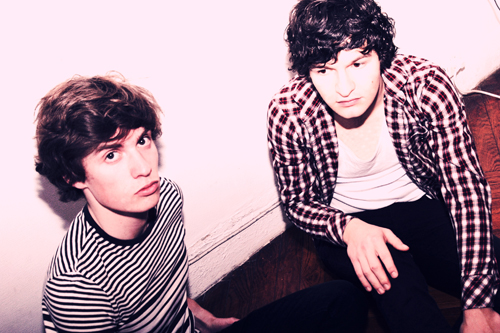 How would you describe your music?
Quentin
: I would say that it is epic-sounding. We travel a lot while listening to our songs. Not geographicly speaking, more... into the galaxy. It's very danceable too. We try not to think about what music we are gonna do, we compose with our intuition and improvisation.
David
: Even if the exercise that consists of describing our music is delicate, because we are not really objective, we try to mainly make air electronic music but that stays punchy. In fact, we do something called E.B.M (Electronic Body Music). :
Head in the stars, and feet on the dancefloor!
What are your primary influences?
David
: I'm very influenced by contemporary jazz - artists like Bugge Wesseltoft and our national heroes that are AIR, Phoenix, Daft Punk…
Quentin
: I am very influenced by the
Versailles' scene
(AIR, Phoenix and Daft Punk are from a city called Versailles). But I mainly like rock, because I learned to play the guitar while trying to imitate the guitar heroes Joe Satriani, Slash (Guns'n Roses), Jimmy Page (Led Zeppelin), and David Gilmour (Pink Floyd).
What album (or EP/song), are listening to non stop right now?
David
: My iTunes plays Wild Beasts (Two Dancers) and a lot of Four Tet/Caribou.
Quentin
: For me, The Irrepressibles' album plays on repeat, a real obsession since I saw them opening for the XX in Lyon.
Your album

Digital Naives

just came out, what are your projects?
Quentin
: We want to operate up the sound that characterize us and getting known as much as possible by the public. That's why touring outside of France would be great, all this while studying, and that's not easy.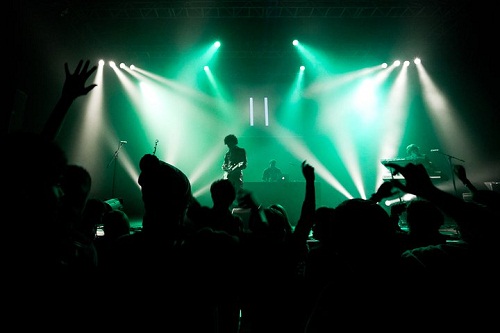 What happens during your live sets? What equipment do you use?
David
: Our lives are as instrumental as possible, even if using a laptop is essential. Our third member (Flo) is in charge of the laptop, he manage the effects, plays the beats. Quentin sings and plays the guitar, and I play synth while singing back vocals with Flo.
Quentin : Yes, we want to highlight our influences as much as possible. David can improvise some very jazzy/funky solos like I can play a very rock n roll guitar riff or solo. Let's say that people get what they paid for. They got a very different vision of the album. A live has to be a value added, it's very important for us.
How do you compose a song? How long does it take?
Quentin
: We like to improvise together and when we find a melody that we really like, we record it. After that, there is a lot of mixing work. It took us 1 month to produce our album, which in itself is not huge . Fortunately it did not last more, I needed to tan a bit. I was really pale, staying in the studio all this time. (laugh)
What is your "guilty pleasure" of the moment?
David
: Humm I have to say that I really enjoy walking naked in my apartment, even if mom asked me not to.
Quentin
: I confess that I enjoy watching David walking around naked in his apartment, even if my girlfriend forbit me to do it. (laugh) Seriously, since I'm in London, I'm getting used to the english customs that include drinking a lot of (very good) beers, and that not good at all !
A last thing for our readers?
David
: French Kiss.
Quentin
: Woah, that's classy. David is a real gentleman, despite his nudist habits. We thank Ilictronix as well as its readers for their goodness. See you very soon in the US!
Destronics - Elise Island

Destronics - Free Hands

Destronics - Feel In Color

Destronics - Feel In Color (SUPER PIXEL! remix) [click to download]

You can find Destronics on :
Facebook
Twitter
Myspace
Deezer
Official website
Enjoy!
-Here