Hey guys !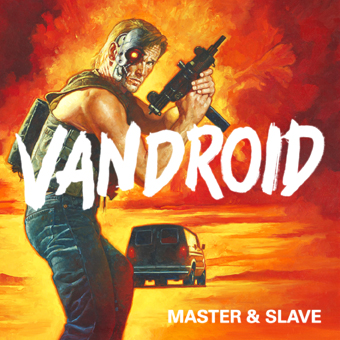 So, what's vandroid ? Here is a part of the press release that will give you an idea.
In a windowless warehouse building on the dreary outskirts of town, an unknown purveyor of grind-house cinema was beginning principal photography on what would be it's last film ever. That summer, in that same warehouse, a young audio engineer named Fujiyama was contracted to record a visionary album as a companion piece to the film using a preproduction test unit of the latest synthesising equipment from Sansui in Osaka.

But sadly, the film and the soundtrack created for it, would not be completed according to plan.

A few weeks later, a freak fire raged out of control, destroying the studio. The barrister found the owners innocent. Insurance checks were cut. And the masters for the film and soundtrack were presumed gone forever.

In the Summer of 2009, Police were called by county court to open a rental-storage locker in the San Fernando Valley, CA with payments long overdue registered to a man by the name of Fujiyama Matsumoto, deceased, as confirmed by LA County Coroner's Office, 2007.

Presumed lost forever, the visionary unfinished concept album was found in a sealed box in the back of the storage locker and now this epic soundtrack from this unreleased film is about to be released over 25 years after it's creation.

Re-mixed and mastered by Fred Falke & Nic Nicola, this presumed lost gem will be finally released featuring re-mixes from a growing que of contemporary dance music luminaries.
Sounds weird, right ? Indeed. After some researches, I think that it's just Fred Falke's new project, a collaboration with a lot of great artists, but this is just a feeling based on rumors, so I'm not gonna give any name to avoid angry comments.
When you see the artists that remixed the first song, you can expect it to be huge... Yuksek, Boy 8-bit, Van She Tech, Siriusmo and of course Fred Falke.
Vandroid - Master & Slave (Yuksek remix) [click to download]

Vandroid - Master & Slave (Van She Tech remix) [click to download]

Vandroid - Master & Slave (Fred Falke remix) [click to download]

Vandroid - Master & Slave (Boy 8-Bit remix) [click to download]

Vandroid - Master & Slave (Siriusmo 'Slave Disco' remix) [click to download]

Happy holidays everyone !
-Here