It's that time of year again! We are slowly approaching the 26th and you know what that means! What? No, not Ellen DeGeneres's birthday. AUSTRALIA DAY!
*queue green and gold boxing Kangaroos*
And you know what that means.... Well, yes drunken patriotic Bogans clothing only an Australian flag. However, contrary to this is Triple J's Hottest 100, an annual roundup of everything that was anything in the Australian music charts (excluding that commercial Justin Bieber shit ofcourse).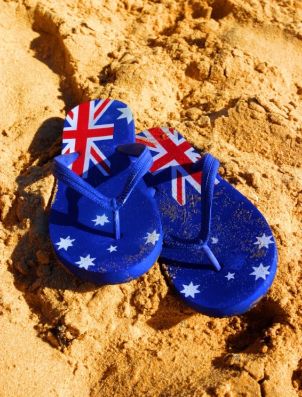 #1 - Miami Horror - Summersun [click to download]

My number one title goes out to who I consider to have produced the best album of the year, Miami Horror. Appropriately titled 'Summersun' this track is everything you could ask for from Australia Day. You may remember them from a previous post I wrote promoting their new works, however their final produce is groovier, dirtier and sexier than anything I ever could have expected to have come from this land of brown open planes (just kidding,
its flooding.
)
#2 - Miike Snow - Billie Holiday [click to download]

To be completely honest, this track isn't truly worthy of this number two placement. It's not their best work, rather it is merely placed at number two simply because it's the only Miike Snow released this year (besides from The Rabbit which failed to even get played on the station
*sadface*
).
#3 - Ou Est Le Swimming Pool - Dance The Way I Feel
I actually love this track, even if it's story is a sad one. It's just something about that beat. Instead of reposting the track, ill simply provide a link to my previous post.
#4 - Miami Horror - Holidays [click to download]

I literally had to flip a coin to pick between Holidays and Summersun as my number one placement. However tails prevailed and poor Holidays was pushed down to my number four spot. However this fact has no impact on its awesomeness. If this song doesn't make you happy you deserve a slap in the face with a large smelly tuna fish (
Windows Live Messenger: LivePlus reference intended
).
#5 - Kele – Tenderoni
Kele's album was filled with disappoints of such, leaving me with a sense of discontent, displeasure, disillusionment and any other alliterationable synonym Microsoft Word can provide me with. However two tracks shined through making the album semi-reasonable; Tenderoni and On The Lam.
#6 - Pendulum - Watercolour [click to download]

This track is not the best track on Pendulum's latest album, however it obtained my vote as I strongly feel that at least one track of the album needs to make it in the top 100, and this is probably the most likely bet. Plus the bass is pretty sweet.
#7 - British India - Beneath The Satellites
This track is in no way electronic and as such is valued at null and void on this blog. I included its heading merely to avoid angry comments informing me that I missed number seven.
#8 - Pendulum - Salt In The Wounds [click to download]

Salt In The Wounds is probably my favourite track from the album. Its punchy beat and raving electro create a great party chune. Dun Dun Dun Dun Dun DUNDUNDUNDUNDUNDUNDUN!
#9 - Grafton Primary - The Eagle [click to download]

Ahh, good old Grafton Primary. With cliché lyrics, Australian styles and flavours, screeching geeetarrrr and a foot tapping beat; what is there really not to like about this track? But don't just let me describe it to you, experience the exquisite tastes for yourself.
#10 - Duck Sauce - Barbara Streisand
I hate Duck Sauce, and as such I honestly don't know why I included this track in my vote. (Gosh I fricken HATE Duck Sauce.) It's obvious that this track will make it into the top 100 anyway, so why did I bother. It was amazing for like a week and now I hate it (almost as much as I hate Duck Sauce themselves). I mainly included it as a sign of respect to artists I love who failed to get an Australian audience, although upon reflection it's probably more of an insult. Oh by the way, did I mention that I hate Duck Sauce (the artist not the condiment, just to clarify and to clear up any confusion…)
Well there you have it, my top 10 songs of 2010 (of course limited to tracks which received transmit over the Australian Broadcasting Commissions airwaves). A fitting start to the new year, although yes we are already two weeks in. I will ensure to post all highlights of the Hottest 100; after I scrub off my black and gold war paint, return the boxing kangaroo to the zoo, change out of my Aussie Flag themed attire and recover from the alcohol fueled celebrations.