Today we have one of the founding releases of the "chillout" movement in the late 90's, you know, Café Del Mar and all that. Anyway, as I mentioned in my first post of this series, Nightmares On Wax used to to Techno/Rave tunes and DJ under E.A.S.E (Experience A Sample Expert, which you will hear in his chillout work too) Until 1995 that is, with the release of the aptly named Smokers Delight (which I already posted a bit of, along with it's follow up
Here
) BUT I intentionally left some of the best tracks out of that short overview. did I have this series planned from only my first week of writing? maybe, or maybe I know what to keep to myself just in case the chance arises ;D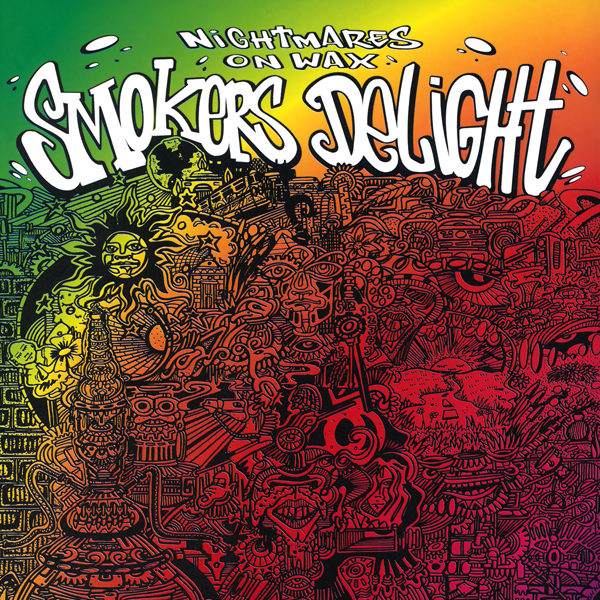 With a title and art like that, you can pretty much guess what it sounds like, that is reggae inspired dub fused with the vibes of a certain illegal substance. Not that you need any of them to enjoy this record, if you like chill tracks, you'll love this. Now let's see... picking from the tracks leftover from the first overview, we have some real gems and laidback ledgends. let's kick it all off shall we? N.O.W up to his usual tricks and getting flashy with the sample work, enjoy.
Nightmares On Wax - Dreddoverboard

The first real gem IMO is Pipes Honour, I had this on loop for about 4 weeks after I bought the album and it never gets old, which for a NINE MINUTE track is quite a feat. Funky guitars, slow beats, good samples, this track has it all. Feel the vibes on this one, relax, kick back and start groovin' wherever you are.
Nightmares On Wax - Pipes Honour

The times when I didnt loop PH I was looping this one instead, which is on the other end of the spectrum at just shy of a minute long, it's amazingly well done for it's length and I wouldn't be surprised if you all have to play it through three or so times just to get enough of that excellent bassline and vocals.
Nightmares On Wax - Me + You

I mentioned in my overview that Smokers goes down well as backing music for social gatherings, and this track is the moment in the album where everyone's stopped to listen after 9 tracks of similar stuff the music takes center stage. you can't not love this one, if only for the catchy melody.
Nightmares On Wax - Bless My Soul

Moving more into lounge territory with this next track Mission Venice (which BARELY lost it's place on my "Struttin' Songs" post) it has a different feel to the rest of the album, it starts with that catchy few note loop, then teases you with little snippets of it before coming back again for the last half of the song. A real classic.
Nightmares On Wax - Mission Venice

If you asked me to sum up the feel and atmosphere of Smokers Delight, I would choose these two tracks and Pipes Honour they are the tracks that I never tire of. For example, the intro to Rise gets me every time, as soon as I hear it I know what is on the way and love every second of it.
Nightmares On Wax - Rise

And as for the reprise? well I may think N.O.W missed a good title by not calling RepRise, the track itself is what it says on the tin, if you loved Rise you will love this even more.
Nightmares On Wax - Rise (Reprise)

Crack a brew and take the load off, sit around with this one on and you wont be dissapointed, I guarantee. Aight, I think that about wraps up this album for good, make sure you enjoy it as much as I did, and if you really like any of this stuff you should go buy it :) Warp's online store have everything I have posted so far (and will post) so
check them out!
Bless My Soul Indeed,
-Claude Van Foxbat