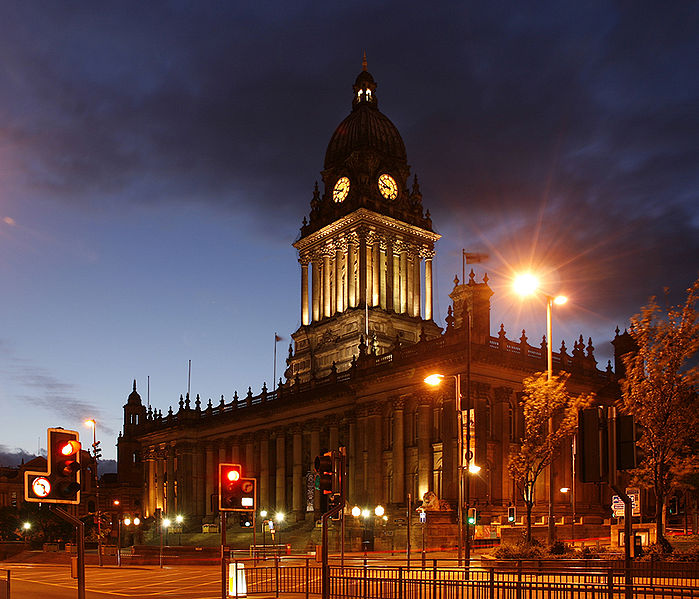 My hometown, a quaint little city in the Midwest of England known as Leeds. Nothing special really aside from being a coal mining hub in the past. I'm trying to produce my own work, and let's just say Leeds isn't the Electro center of the UK. However, Leeds has more than just some old industrial relics and Victorian architecture, Ladies and Gentlemen, I give you Nightmares On Wax
George Evelyn, or Nightmares On Wax, a DJ from a hip-hop background (think DJ Mehdi, but English) was one of the first releases on the now legendary Warp Records, however I'm not here to bore you with backstory. instead I'll let the music do the talkin' and focus on not one, but two of my favourite albums from him I recently dragged out again. any time I've played it, either as backing music or just for social listening, by the end, EVERYONE has their groove on and it's seen me through some tough times what with these final exams and whatnot, it's nice to just take it eeaaaassy for a while. they're among my favourite albums ever, so enjoy, kick back and feel the funk
Now, I love me some bangin' electro or wobbly dubstep, but Nightmares creates those chill, dub-flavoured tracks that DEMAND you listen to them. Not the Royksopp kind of chilled either, something much more, more like the kind that has so much funk you just have to getchya groove on. And what better track to back up this point with than this?
the opener from his charmingly named album Smokers Delight from 1995 (which has amazing artwork, see above),and despite the album's title, you don't need any substances to enjoy this fusion of Hip-Hop and Jamaican style Dub (with bonus Quincy Jones sample) that sets up perfectly the musical journey that lies ahead. Speaking of which...
(feel the funk about 56 seconds in!) Starts with a sample, but that soon gives way to heavy beats, and follows it all up with those groovy synths. as with many of the tracks on Smokers Delight, it sounds boring if you don't have a sub or headphones. normal speakers just don't pick up the subtle-yet-heavy basslines that are a trademark of N.O.W
the final of my selections from SD is Stars, which combines all elements from previous tracks into one, featuring excellent sample work, subtle basslines and even some Bongos, this is the soul of the entire album condensed into a seven minute chunk
and now, some tracks from the follow up, Carboot Soul. The album shows off how his style has evolved in the 4 years since Smokers Delight, it's quite different compared to the Hip Hop rooted SD, featuring more Bass Guitars, real drums and even full vocals on some tracks, but it still retains that trademark Nightmares Funk.
Morse was one of the first N.O.W tracks I ever heard, and I instantly loved it, it's a major highlight of the album. it also shows off the change in style, with plenty of guitars and a heavenly vocal sample. again, listen till about 1:45 when the groove hits, trust me :D
The vocal tracks are also a high point, featuring underground soul singer Sarah Winton, the collaboration is a match made in heaven. the backing for these tracks is simple and doesn't have the groove of Morse but that's not a problem due to Ms. Wintons great vocal work
and to top it all off, one final guitar heavy track, Fire In The Middle, It's in a similar vein to Morse, but slower paced. it almost never gets old, and if it comes up on shuffle I have to listen to it :). Definitely one for you people stressed out from a hard days work, or just laying back and chilling out
And with that final slice of homebrew for you (can you brew sound?) I'm signing off, let me know what ya think in the comments as usual.
Sunday is the day of rest, after all :)
-Claude Van Foxbat